I am so excited about these albums! New to our product line, these guest books are a fantastic way to display the images from your session! Engagement session images can be turned into a guest book for your wedding......or your maternity/newborn shoot can be transformed into a book for the guests at your baby shower to write good wishes and thoughts.
Each page displays an image on the right, and either black or white archival quality writing paper on the left. These albums are available in either 5x7 or 8x10, in your choice of landscape or portrait orientation. With a choice of 10, 20, 30, or 40 images and over 60 materials and colours to choose from for the cover, we are excited to offer these to our clients!
Both sizes can be further personalized with lettering on the front, and the 8x10 can even have a cut out added to display your favourite image on the cover.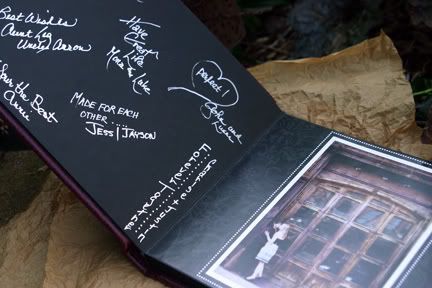 [Image courtesy of Finao's website - I've ordered a sample that I'll fill with images Shawn and I have created and post pictures soon!]
If you've already received your product ordering information, contact me for an updated list. Otherwise, our product information package now has these books listed.