Lots of things have been afoot lately....
1. We've set our pricing for 2008, and we are excited to be offering some big savings while we continue to portfolio build:
50% of all sessions booked to occur before November 15, and all weddings booked byNovember 15
20% of all products - prints, canvases, and albums ordered before December 1
2. We've been busy creating a website, which is set to go live on September 1st - we'll be offering some exciting giveaways, so be sure to check it out! We will announce the address on this blog and to members of our Facebook group.
3. Finally, our canvas supplier is offering a sale for the month of August so we are passing the savings on - any canvas print ordered before August 30 is 25% percent off, instead of the current 20% we are are offering until December.
Please don't hesitate to contact us at
jlyallphotography@gmail.com
with any questions or to make a booking!
And, because it would be silly to post in a photography blog without a picture - this is another out take from the Urban Photo Safari. This little girl was so patient as the crowd of photographers milled about her!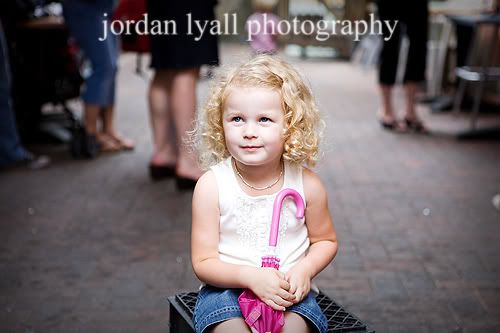 Finally, we've been delighted to notice that the blog is getting more traffic. Welcome to all of our new visitors, and thanks so much for taking a look! Feel free to leave a comment - we'd love to hear from you!